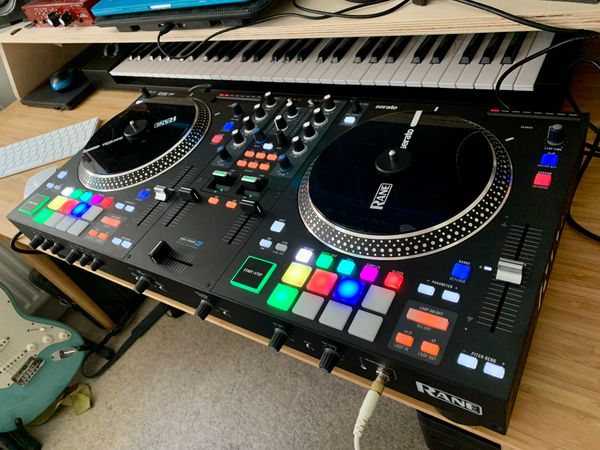 After a lot of research and deliberation, I have chosen the Rane One for my portable set up. 
I always wanted the Rane One but, when the Rev 7 came out a few months back, it threw a bit of a spanner in the works. Largely because I love having a screen on my Rane 72 and I like the battle set up format on the mixer. 
I'm certain I'm not alone in needing to make this decision so I want to share why I made the choice I did, in case it helps you. 
BUILD QUALITY 
The primary reason is build quality. The second you see the Rane One, it's painfully obvious that it's some high end shiz. All metal, sturdy, solid. I feel sorry for the floor this mofo gets dropped onto. 
The knobs, the FX paddles, the performance pads, the pitch fader. All top quality stuff. I'll get to the platters in a moment. 
The Rev 7 really disappointed me here. I was actually quite shocked at the difference. The unit is plastic and it looks and feels plastic. I'd watched a tonne of reviews where people said the build was good and it is, but next to the Rane, it's a different league. For an £1,850 (£600 more than the Rane) controller, I felt they should have done a LOT more. 
The knobs are all rubbery and don't feel that sturdy. The trim knobs are horribly thin. The FX paddles felt quite plastic and the click when you put them on just didn't feel as premium as the softer sound and feel of the paddles on the Rane One. 
THE PLATTERS 
I'm a Technics 1210 turntable performance DJ. I have never got on with CDJs or any kind of jog wheel based controller. It just feels wrong to me. 
I felt immediately at home on the Rane. They are real platters with a real spindle and a real  (ish) vinyl. They are quite slippy so nice for scratching. They do suddenly gain a bit of friction so it took me about 15 mins to get my juggle routines going smoothly but overall, they felt beautiful to play on.
I was, however, really excited to try the Rev 7 "vinylised jog wheels" as it was innovative to have a screen in there and reviewers had raved about how they feel. Plus, no spindle would mean more 'vinyl' real estate to rest my hands on...
Being honest though, I didn't have the same experience. They feel good, don't get me wrong, but the plastic build really did feel like plastic to me. It kind of felt like I was cutting up on an old Fisher Price toy. Cool idea but, for me, I just prefer the real platter approach. 
I think, if Pioneer had gone with a Rane One style platter, this may have made my decision much more difficult as their turntables are dope. 
On the actual "vinyl", the Rane control discs were so much better. They felt more real to me and with the cue line built into them, it was just a much more professional experience. Pioneer, a sticker on top!? On a £1,850 bit of gear!? You're joking right?! That feels very much like an after thought. 
I have heard that the acrylic Rane use can get slippery when your hands get sweaty. I'll have to see what this is like but I can always replace them with actual 7 inch vinyls, if needs be. Another advantage over the Rev 7.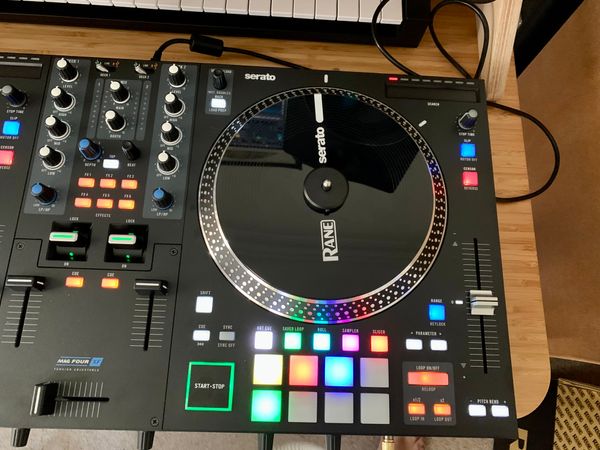 CROSS FADER - REV 7 WINS 
There is no doubt that the Pioneer Rev 7 wins here. That Magvel fader (same as the S9) is exquisite and the customisation that is right there for you on the unit is brilliant. 
The Mag Four fader is a premium fader but a bit meh. I tend to find it's good at the right angle but gets sticky if the fader is tilted in any way. I think the store version I tried needed a bit of lube too, which didn't help.
But surely the fader is one of the most important things!? Well, it is. But I can replace it with an Innofader (like I have with my Rane 72) and that's what I intend to do. That'll actually make it easier to swap between my setups too. And, as the Rane gives you easy access to the faders, this will be easy to do. You have to be Indiana Jones to get to the Rev 7 faders for maintenance! 
But I do have to say it… the Rev 7 fader is next level. 
The up faders on the Rane One are terrible too.  And there's nothing you can do about them. If you're an "up cutter", you are gonna hate the Rane. I'm not and only do a few relatively simple juggle/scratch techniques on the up faders so, on balance, this didn't matter to me as I could still do these tricks on them - I just didn't enjoy it as much as I should have 
VIBES AND FLOW 
This may not matter to you but it was a factor so I'm gonna share it. I just got into flow on the Rane One really quickly - I was having tonnes of fun and I didn't want it to end. 
The Rev 7 - my cuts were tighter (thanks to that next level fader) but I just wasn't feeling them. They kind of had that vibe of a very technical musician playing someone else's music. Sick skills, no soul. 
WHAT ABOUT THE SCREEN? 
I use the screen on my Rane 72 a lot. I use it for many things - checking the mix when the monitoring situation is poor, sense checking my beat matching, seeing where to mix in the next track, checking i've rewound to the right places and sometimes to correct my chase patterns, if I've gone a bit out of time. 
I was concerned that this would be a real deal breaker for me. 
It's a shame the Rane One doesn't have a screen, for sure. But I didn't like the Pioneer screen at all. I didn't find it helpful for checking alignment of beats. I think it was because one wave form is much smaller than the other so getting that insight is not as easy as I thought it would be. Also, if you have the cue line on, it's very distracting and difficult to see properly. You can turn this off though. 
Also, as it's on the deck, i can't use it to sort out chase patterns on the fly (yes, I know that I should just get better at them!). I'd rather they had a single screen in the middle of the mixer, like the turntable setups it intends to mimic.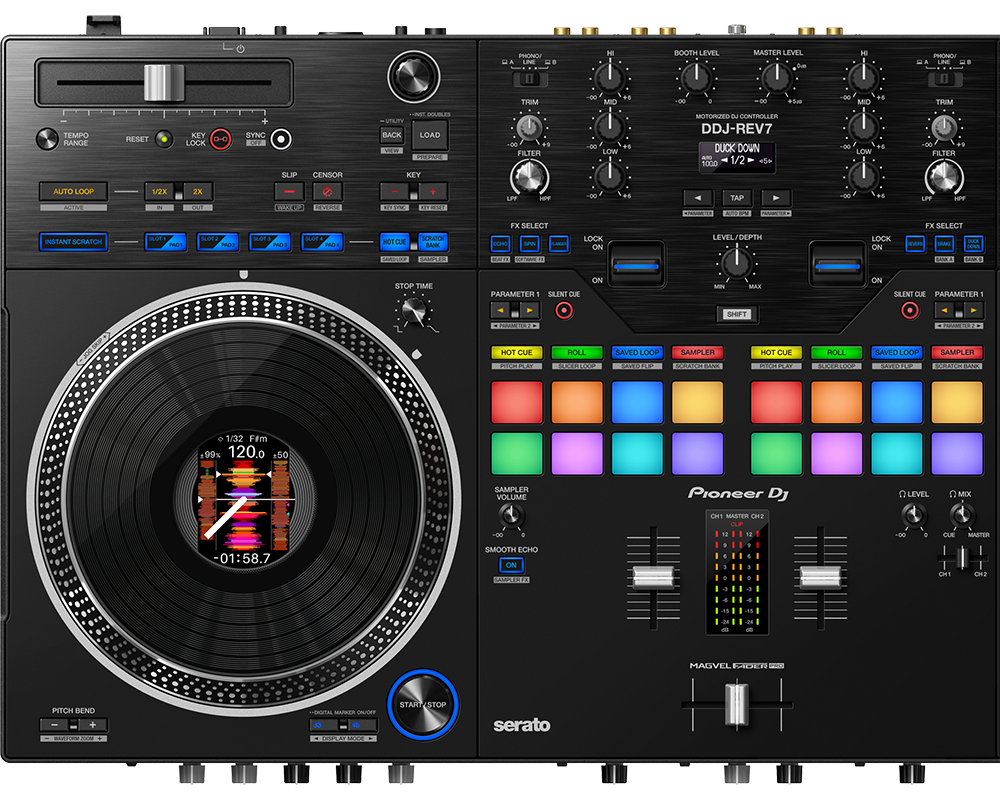 WHAT ABOUT THE OTHER FANCY FUNCTIONS? 
Silent cue, battle positioning of the pitch control, instant scratch. 
Silent cue doesn't bother me. The Rane One doesn't have it but you can achieve the same thing holding down the cue point on the performance pad and then hitting the start button to keep the song playing. A little more complex but no biggie. 
The pitch control location has never bothered me. I've always had battle set ups but quite like the side location on the Rane. If I had a chunk of routines that used the pitch control, I may think differently, but I don't. 
Instant scratch is an interesting one. I flip flop on this a lot. On the one hand, SUPER handy for a quick practice without having to boot everything up. (Although, if I want a fast practice, I can just use Algoriddim Djay Pro AI and plug my phone into the mixer instead. An extra 5 seconds but then I have the full flexibility of the scratch samples and beats. 
One the other hand, it feels a bit like a gimic and something you'd expect on a more entry level product. I'd actually rather the unit was a bit smaller and didn't have this functionality. 
What is handy is being able to repurpose those buttons to the sampler and scratch bank. That means you don't have to change your main pads to do these functions. That's cool but do I really need it? I don't know. 
FINAL POINT 
The Rev 7 is no doubt a dope piece of kit with tonnes of creative possibilities and a very good cross fader. But I didn't feel I'd get much out of the innovations it has brought to the market and it just doesn't look or feel as nice as the Rane One. 
The Rane One it is. I shall call her "Neo" and I can't wait to give her a spin at my next gig.
SOME MODIFICATIONS/SETTINGS I RECOMMEND
1. Give the fader a bit of lube on both rails when you get it. Sometimes they get sticky when they are boxed.
2. Loosen/tighten the fader tension to your liking. There is a screw you undo/tighten to achieve this on the fader.
3. Go into the settings on Serato and under 'Mixer' change the cross fader cut in to the lowest it can possibly go. This is a bit fiddly but it should be only just visible on the dial. At this point, the fader will cut in beautifully tight.
4. Change the slipmats for 7 inch versions of your favourite. I use Dr. Suzuki's scratch ones and making that change made the platters even more wonderful to play on.
Enjoy!