Our job in mixing is to make everything sound great, yes, but it is actually more about making sure no-one spots any mistakes (by correcting them!) as these are the things that will make someone think that a track sounds unprofessional. And guess what, they are even more distracting when the mixing is top quality.
So, this blog may sound boring but it will really help you out. I spent hours trying to get a mix right last week and I discovered that it was actually a timing issue between the bass and drums that was making it all sound terrible, not the way I had set up the EQ and compression. Not only was this a waste of time but it was also a massive headache as I had to undo a whole load of decisions I had made over those hours. If only I had had a checklist to hand to prevent me missing these things...
Good news. I have created one. And I have put in some brief guidance on how to clean up each issue. Follow this to ensure all your tracks are clean before you even start mixing. This will give you the confidence that all the decisions you make and all the tools you reach for will actually deliver on what you need. They will also ensure that no eager-eared listener will hear any mistakes and mark your track down as unprofessional, despite all the hard work.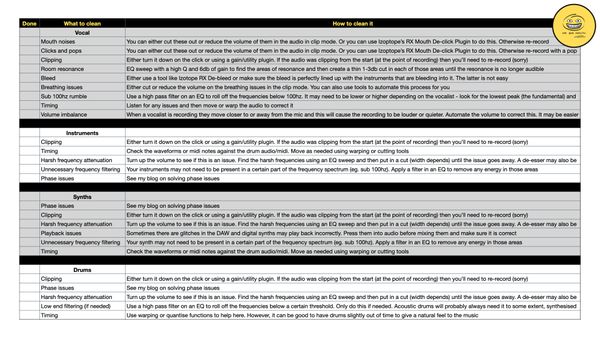 Let me know if anything is missing.