Vocals are the hardest thing to mix IMO. They are the most complex, the most dynamically wild, the most susceptible to poor acoustics instrument in my mix. I have finally settled on a process that works for me every time so I thought I'd share it so you have a good starting point for finding your own groove. 
Generally speaking, there are a few things you need to do when processing vocals. 
Cleaning up. This could be pops/clicks, dodgy volume due to singers moving around when recording, room resonance and other tonal characteristics. This could be at the start, or after applying other effects. The tools I use when this is my focus are a mouth de-click plugin by Izotope, EQ, volume automation/clip gain and sometimes multi-band compression
Control dynamics. This is about making sure that every word can be heard perfectly and no word is louder than the others. My vocals are always way too dynamic. I massively underestimated how much compression I actually needed to apply for quite some time. It is normally something like 10-12db (across a number of compressors). Tools that I'll reach for if this is what I need to do are compressors, saturators and OTT 
Shape tone. This is about giving the vocal the right tone for the mix. Perhaps it needs some brightness to give it that modern shine, or a boost around 1k to give it presence. This will always be an EQ but can also include an OTT if I am trying to bring out high end sheen in a controlled way 
Spice. This is usually about weight (thickness) and depth. Saturators, doublers, chorus, reverb, delay. 
It does make sense to do these in order but you might find yourself cleaning up after applying compression because the compressor accentuated a nasty frequency you didn't know was there. Equally, you may need to apply compression to smooth out any volume inconsistencies created by applying a doubler… you get the gist! 
So let's walk through a recent vocal chain and I'll explain my rationale at each stage. 
1. RX mouth de-click (do in solo) 
Unfortunately, I'm a lip smacker… and I've had to pay handsomely to have my dirty habit removed from my recordings. I apply this plugin from Izotope, switch to clicks only and then adjust the sensitivity so that it's as high as it will go without taking consonants out. Holy shi... 156 clicks in the first verse...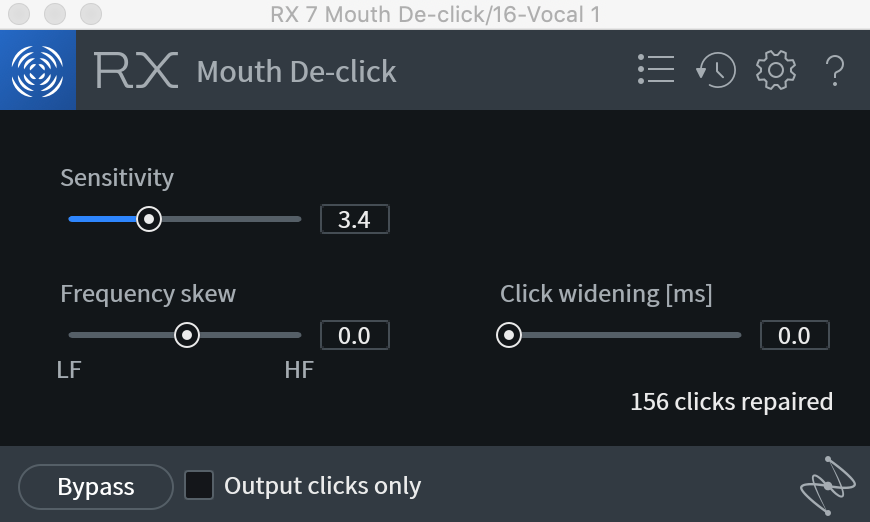 2. Surgical EQ (do in solo) 
I reach for my Fabfilter Pro-Q because it is sexy and so easy to use but DAW EQs are definitely up to the task. 
Firstly, I'll gently roll off below 100hz (12db slope). That's because the fundamental for my voice is around 120-150hz. Everything below 100hz is just rumble from the mic, room,etc - sounds crap and eats up headroom so get rid of it! 
Then, I create a small thin boost (3-5db) and solo it. I sweep slowly across the frequency spectrum listening out for areas where either: 
the volume jumps significantly 
There is a ringing/whistling sound 
I then widen and narrow the Q until it is mainly the bad stuff. Then I take it off solo and try to hear it with the whole vocal in. Once I can hear it, I'll then start to reduce the gain until it disappears from the sound. This is probably 1-3db. More than that and it'll start to sound weird for other reasons. But it does depend on the recording conditions - you may need more! 
Repeat this with any other problem areas and then do the very satisfying bypass/engage to see the impact of what you've done. Your vocal should sound a lot cleaner and clearer.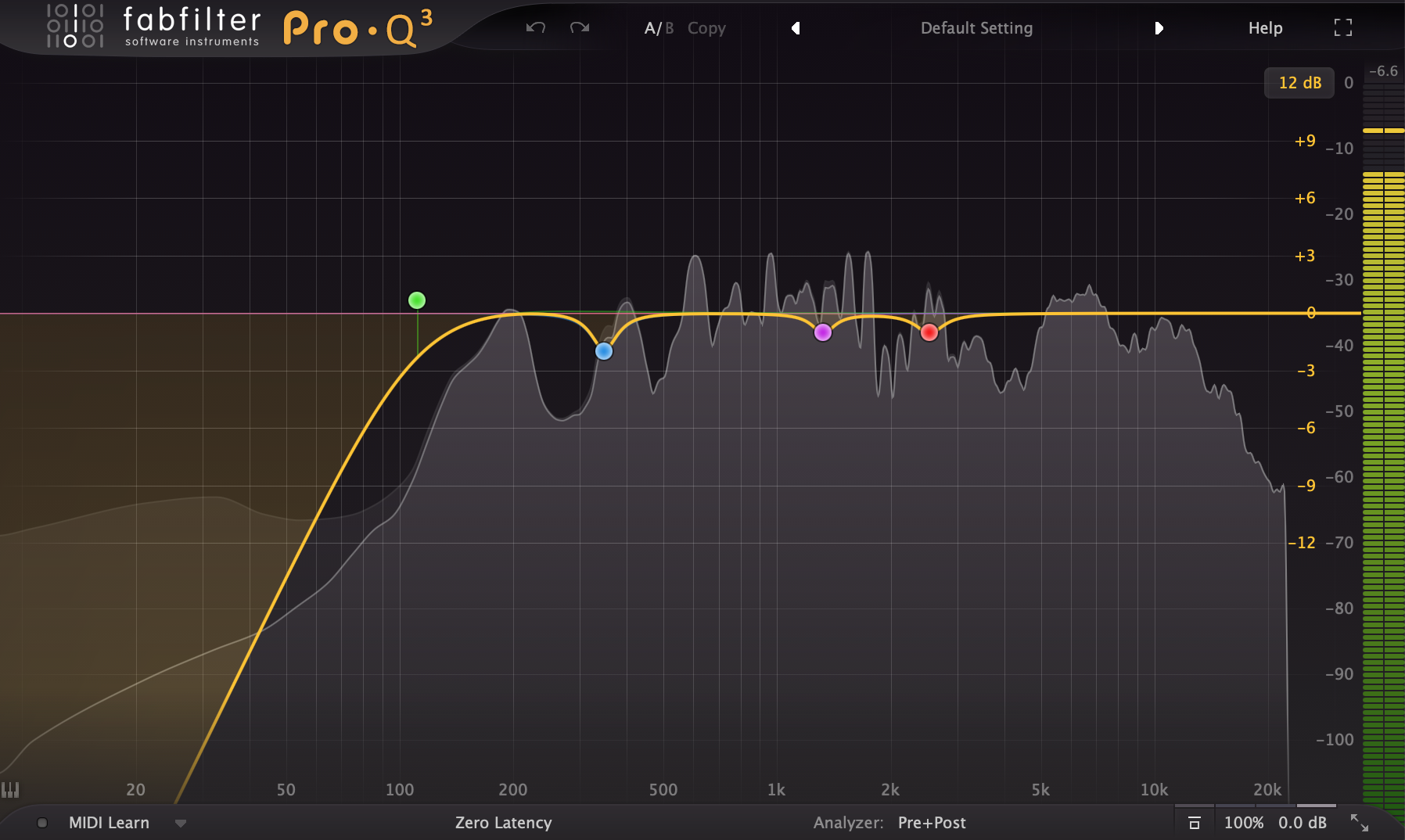 3. Volume automation (do in the mix) 
It's time to start thinking about dynamics. But that's normally a compressor isn't it? Yes but my experience is that my vocal needs a lot more compression than I ever thought and lots of gain reduction in a compressor sounds crap. 
So, I try to help out my compressors by levelling the vocal out before it hits them. This can be achieved in a few ways: 
Go through the vocal cutting it into bits and lowering/increasing volume as needed. Start with phrases and then move to words if needed 
Automatic levelling tools like waves vocal rider or the ALS functionality in Nectar. These tools effectively do what a sound engineer does at a gig, where they ride the volume fader up and down to bring out the ends of sentences that are often quieter, for example 
Both - yes, sometimes you need both 
Re-record the vocal making sure the vocalist doesn't move around (often not an option or a futile request!) 
This is much easier to hear in the mix so take the vocal off solo and see what words disappear and what ones sound too loud. They are your targets.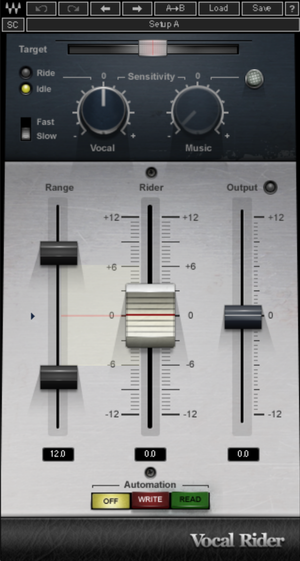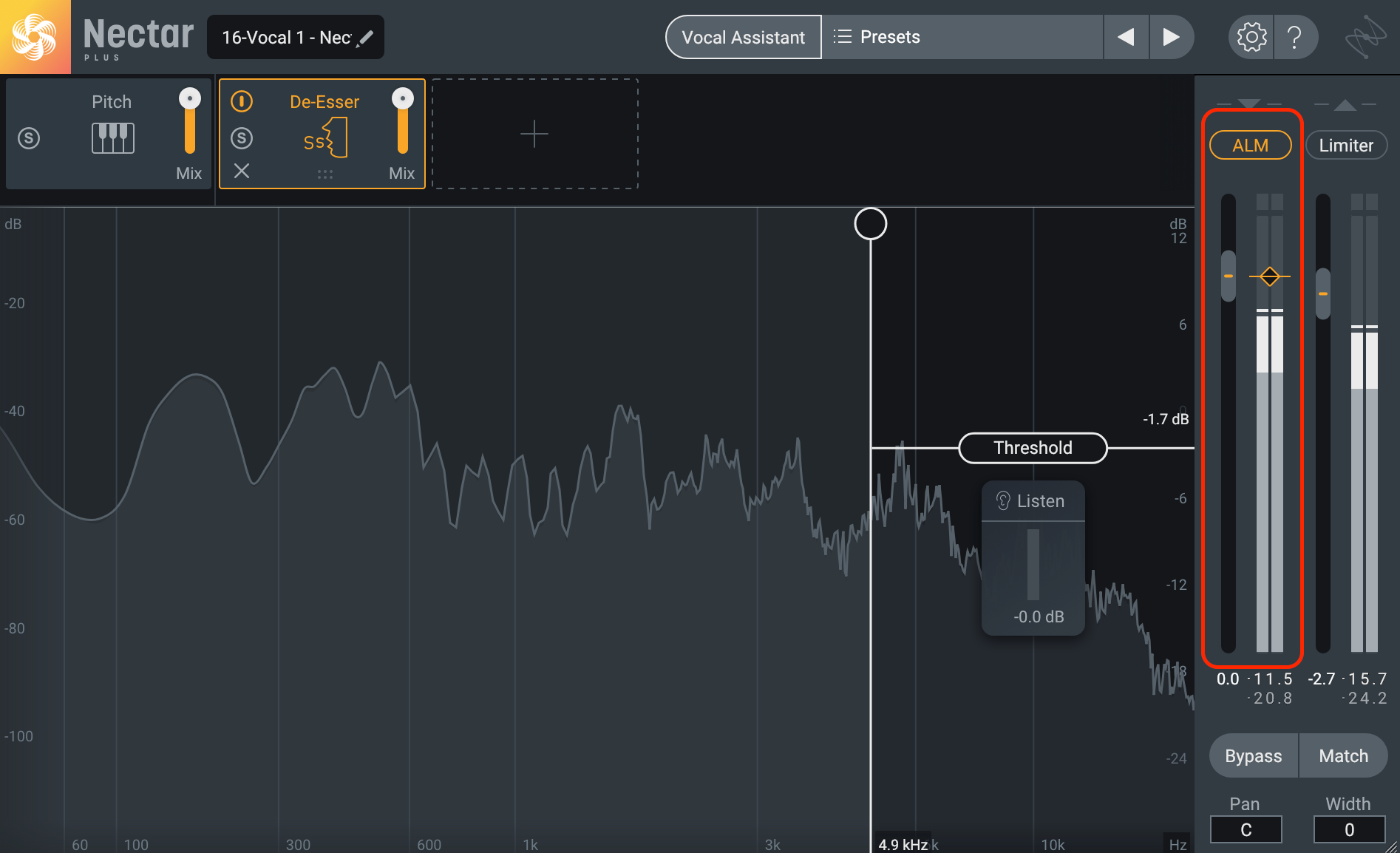 4. De-esser (solo or in the mix) 
Volume automation will have worked on most words but there are still these horrible "sss" a s "t" sounds that are louder and sound really harsh up loud. 
It's time to use a de-esser. My favourite is the de-esser in Izotopes Nectar suite. I'll look at the waveform to see where the peaks are on these consonants. From here, I'll just try to isolate that area so the de-esser only triggers when needed and only on that area.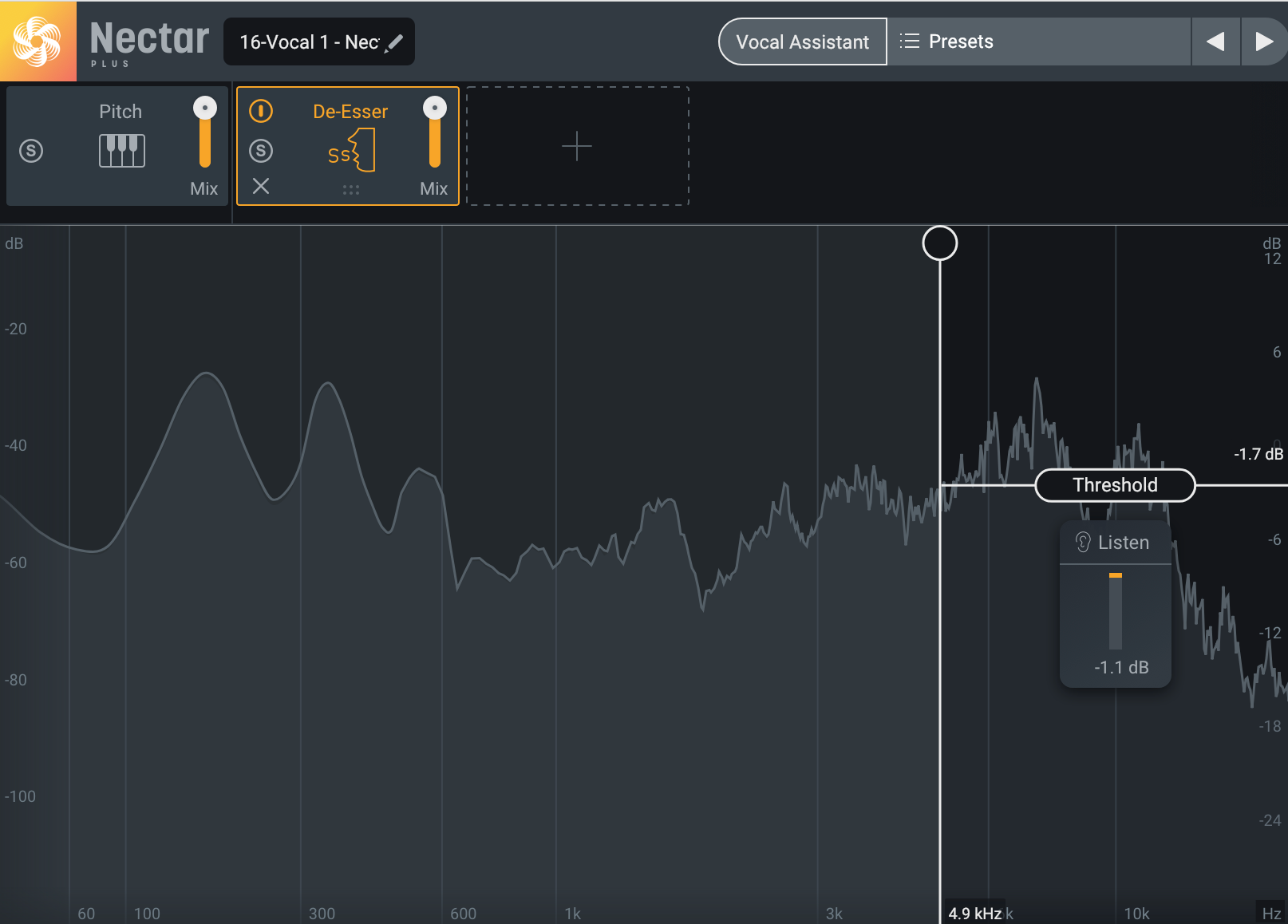 Right, now it sounds clean and there is some natural volume control. Now a compressor has less of a chance of accentuating a problem frequency and/or sounding over processed. Time to control the dynamics! 
5. Compressor (tone and perceived volume) 
Here's something to try. Get an acapella from a professionally produced track. Volume match yours so the quietest words match that of your reference and take a look at the peaks of each. That'll give you a sense of how many dbs compression you need to achieve. I did this and discovered I needed a whopping 11db of gain reduction to have peaks in line with the reference at the same perceived volume!! HOLY SH… 
That can not be achieved (in a musically acceptable way) by one compressor. I am going to need to use multiple in series. 
I reach for my Fabfilter Pro-C because it's got multiple modes and is easy to use but DAWs have really good transparent (clean) compressors that can handle the job just fine. 
First thing I'll do is pull the threshold down so I am getting 3db of gain reduction and I'll have a listen: 
does that make the vocal dull? If so, it's because the compressor is hitting too fast and squashing the transient. To solve it, I'm going to need to slow the attack down. Increase the attack dial until the life comes back into it (probably around the 2-8ms range). In rap music, the transient is important. Let enough of it slip through and vocal will sound extra punchy. Think about this before you start adjusting - what is right for your genre of music and the singer? 
Does the gain reduction return to 0 after each word? I make rap music so the words are quite fast. This means I almost always have to speed up the cycle of the compressor to have it return to 0. If this is the case, I'll need to speed up the release so I fear the release dial and turn it down to 25ms ish. As I do this, I am listening for whether the words are all sounding consistent volume wise. A release that is too fast will fail to equal out the volume (it'll just knock peaks off) but a release that is too slow will mean some words will not be loud enough as the compressor will still be compressing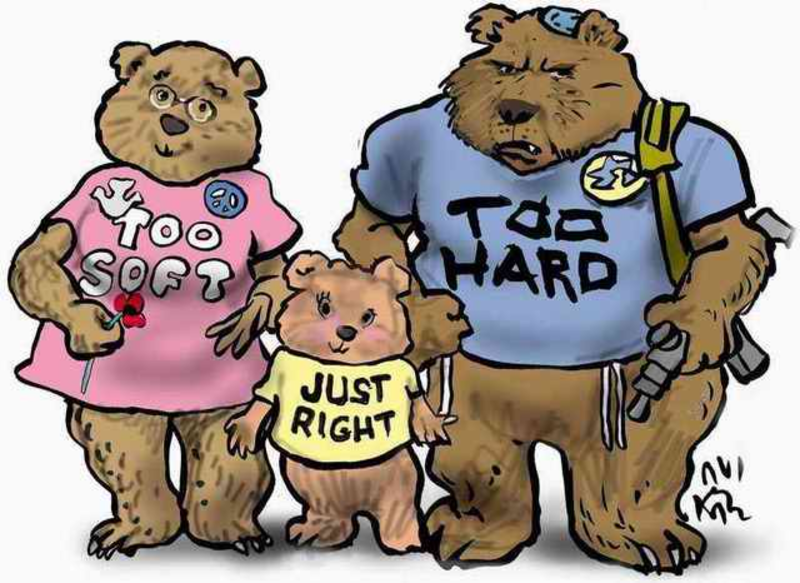 Then, I will spend a bit of time increasing and decreasing the ratio to where it sounds more natural with more or less gain reduction. Higher ratio will increase the gain reduction, lower ratio will reduce it. This stage is all about making it sound natural and more even. It is not about headroom. 
After I have put this compressor on, I shall have a listen again and ask myself: 
are there any dodgy sounds that have appeared? Any troubling frequencies? If so, I will pull out the surgical EQ again to remove them before carrying on. It might actually be that the dodgy frequency appears on only a few words. In which case, the best bet is going to be a dynamic EQ or multi-band compressor 
After applying this compression, listen to the vocal in the context of the mix. I expect there will still be words poking out or not being heard properly. In which case, I add another compressor and do the same. Add a third if you have to. Like I said earlier, I have to make up 11db to get a similar result to my professional friends. 
6. Compressor (headroom haircut) 
Once I have done all I can to level out the perceived volume of the vocal and make it sound as punchy as I need it to, it is time for that all important haircut. Again, this may be multiple compressors but lets focus on one for now. 
For this, I will pick the most transparent/clean compressor I have - this is Fabfilter Pro-C on clean mode for me. What you want to do is lower the threshold so you have the desired amount of gain reduction (think back to what you needed and the gap between what you now have and that). Then, you need to set the attack to fast (0.25ms) and set the release to be fast too (25ms). What does that sound like? 
Has it made the vocal too dull? slowly increase the attack until it has a little bit of life back into it but don't go too far. The fast attack in this stage is critical to achieving more headroom. 
Does it pump unnaturally? Speed up the release - you are squashing for too long and going beyond the peak. You only want the compressor to act on the peak. 
It is super important to bypass/engage this a lot here. You want to be able to see differences on your plugin but not hear them (or barely hear them). Once you have set the attack and release, play with the ratio to get the right balance between gain reduction and very little audible effect. 
Repeat this process again with another compressor, if you want to shave more off the top. 
7. Surgical EQ clean up 
Compression lowers the volume of the loud stuff and boosts the volume of the quiet stuff. You will almost certainly have gained some nasty or unwanted sounds in the last phase. Repeat the surgical EQ process again to make sure there is nothing in there. If there isn't then crack onto the next step. 
8. EQ to shape tone 
Right, it's all dynamically tight and natural sounding. It is time to make sure it has the right tone and sits nicely in the mix. Key areas that I typically find myself boosting/attenuating are: 
100hz roll off at 12db slope - sometimes the processing we have done can add content below 100hz. This is to get rid of it as it is musically useless. 
200-400hz small notch - sometimes a small gain reduction is needed to remove some boxiness here. Normally a thin cut. 
1,000hz boost for presence. This is normally 1-2db with a wide Q so it sounds natural 
4,000hz high shelf for brightness 
10,000hz high shelf for "air" that is common in pop music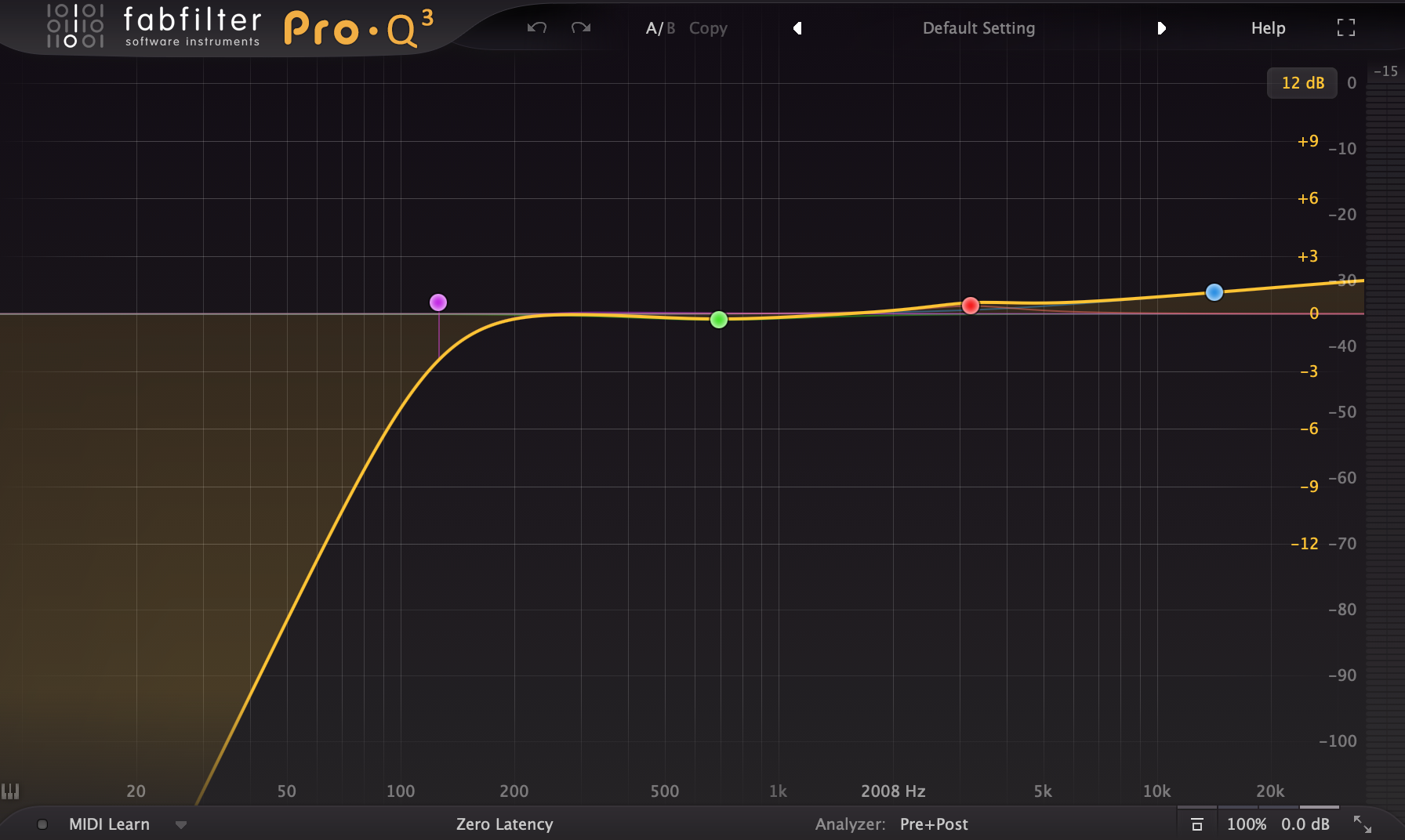 Another consideration here is the use of an OTT in parallel. I use this when I want to bring out the brightness in a vocal. It is normally as simple as slapping it on and playing with the dry/wet (amount in the below image) knob till you need a nice tone. I would use this in conjunction with the EQ, as opposed to instead of it. 

9. Spice 
This is where it becomes difficult to educate. This is all about personal style, the genre, the singer/rapper, etc. Here are some guiding principles though. 
Does it sound thin? 
Saturation can be your friend to add in extra harmonics that beef up the sounds thickness 
Vocal doubles, or a vocal doubler plugin, may be what you need here to add some weight and thickness 
Does it need to sound bigger and wider? 
Try adding chorus. Do this in parallel with a high pass filter preventing the chorus from acting on 500hz and below as this will likely sound muddy, or introduce phase issues. 
Try a vocal doubler and spreading out the doubles across the stereo field 
Try a slap back delay with the feedback set to 1, the left channel set to 15ms and the right channel set to 35ms. You may need to dial these back or up but keep the largest value below 40ms - that's when your brain starts to perceive it as a different sound 
Does it lack aggression and energy? 
Try saturation/distortion, particularly focused on the higher end (800hz up). This can make a lifeless performance sound more energetic and aggressive