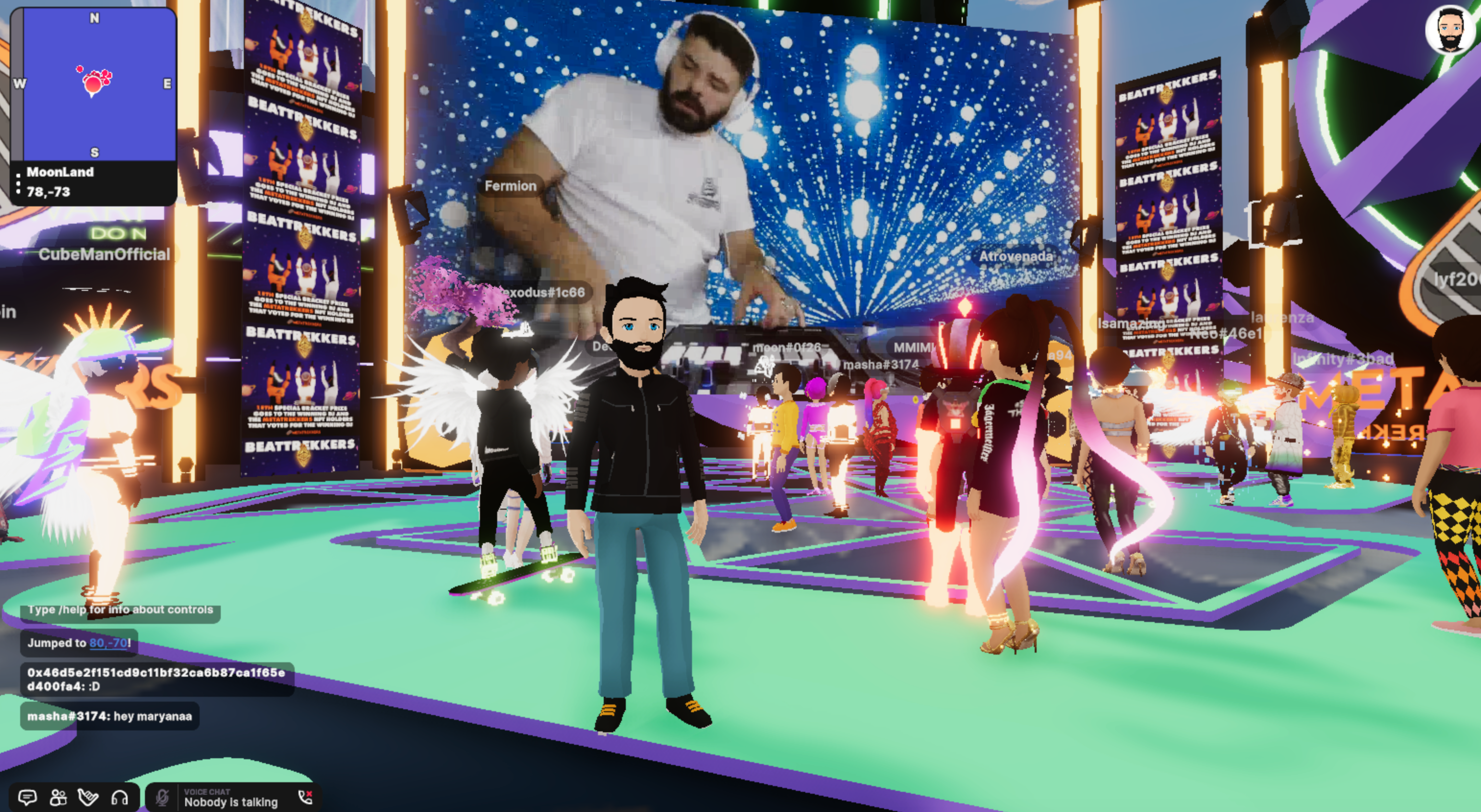 So, I'm in the final round of a DJ Battle in the Metaverse called Beat Trekkers. It's run by Metatrekkers and features some really big DJs doing some really cool (and somewhat wacky things). One DJ, a platinum selling artist, did his whole set using a VR set of decks and streamed their view from their headset! Mad. 
The DJs in the final include a world renowned techno DJ, Steve Saiko and a hip hop guru, Gucci Toe. Steve is a veteran in the metaverse and recently played on the techno stage at Decentraland's MetaVerse Music Festival (MVMF). Gucci is lesser known but pulls out the high energy sets when he needs to. He's a finalist for a reason! Safe to say, I've got some stiff competition! 
There are 3 rounds in the final as there are 3 finalists and it will be winner takes all. The 3 rounds are all taking place at midnight (UK time) each Wednesday until the end of the month! Tonight is the 2nd round and it is my last round. The final round is next week, where the winner will be announced. 
If you'd like to come and watch, there are a few things you need to do. It's simple enough so don't worry. 
1. Get a crypto wallet.
I recommend getting the coinbase wallet on your phone as it syncs nicely with Decentraland and acts as your passport when you go back in. Just go to the app store and search for "Coinbase Wallet". Open it up and set it all up with the onscreen instructions. 
2. Go to www.decentraland.org.
Choose 'open in browser'. Then select 'Play using your wallet'. Sync up your wallet on the main screen. You'll need to go into the Coinbase Wallet app to briefly confirm. When you open it, wait a couple of seconds and a dialogue box will appear. Select 'sign in' and you should be directed into Decentraland.
3. Build your avatar.
It'll be pretty limited at first as you won't have bought anything extra. That's cool though - you don't need to buy anything to take part! You'll be able to choose their skin colour, their hair do, their facial features, clothes, basic accessories, etc. When this is done, you just need to put in your email and it will save your account. From there, you will be transported into the spawning site in Decentraland. 
When you land in Decentraland, there is a short tutorial to help you get to grips with the interface. It is not complex but a few things...
- Moving is done using the up, down, left and right keys
- Use your mouse to look around. You need to click your mouse to activate this and then hit the ESC key, if you want to use your mouse to navigate to some of the menus, chat, etc
- There is a chat functionality and other functionality in the bottom left of the screen. Navigate there with your mouse to see what you can do
4. Navigate to the venue
Once in, click the top right (the image of your avatar) to bring up a menu and navigate to the map (it is across the top of the screen). Then you just need to find the right coordinates for the battles. The finals are all at the MetaTrekkers Clubhouse, which is -69,-139. Click on the correct co-ordinates to jump there. 
5. Find the stage and start dancing
Find the stage and start to dance! Decentraland has "emotes", which are dance moves your avatar can do. You can buy more and lots of people design their own and give them away. Activating these is done using the menus by the chat functionality in the bottom left of the screen.

The format
The format is that there is usually a pre-party, the battle and then an after party. The pre- and after- parties both have great DJs too so worth hanging about for them, if your time zone permits! 
The actual battle has each DJ doing a 30 minute set. There are no rules on this set - it's just whatever the DJs think the crowd will like as ultimately, once the 2 sets have been played, all the participants can transport to the Metatrekkers Clubhouse and cast a vote for their favourite DJ. 
The journey so far...
If you want a sneak peak at the sets I've done so far to get here, you can find them below. I've gone with predominantly electronic music but making use of bootleg remixes of well known tracks to keep it accessible and give the audience that throwback vibe. A little bit of tasteful and easy to follow turntablism is in there to differentiate my sets too. Hope you enjoy them.
In the first round, I won 18-4 against Harrison First - a big name producer from Sweden
In the second round, I won by 1 vote! 21-20 against DJ Webber Don - a party rocker from Jamaica
In the first round of the finals, I gained 7 votes. Steve Saiko got 14 votes for his hypnotic techno set so I have some ground to make up but I think I can do it!